OUR STORY
With over 30 years of experience with the finest leather and office accessories, Prestige is proud to provide the elegance and functionality you have come to expect from our products.
It all starts with our "hide to hand" approach to premium leather accessories.  From the exceptionally sourced quality materials we use, to the employees who craft our products by hand in our Buffalo, NY facility, we remain devoted to providing the highest quality genuine leather office accessories and other personalized office items curated to fit your needs, style, and company for years to come.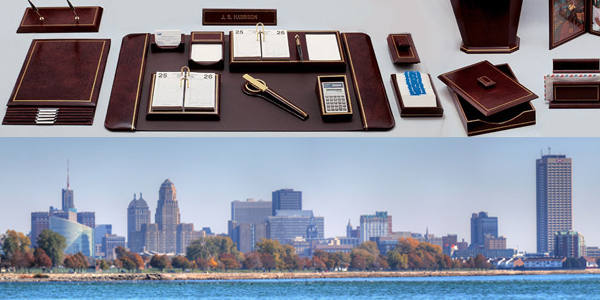 WHO WE ARE:
Our USA made products have been, and continue to be, preferred, specified, and purchased by the most well-known and highly regarded Interior Designers and Architects in the industry. They can be found on the desks and in the offices of U.S. and foreign government officials, and presidents of Fortune 500 companies.
These elegant accessories are designed to provide the highest degree of functionality, while at the same time presenting an expression of modern artistic minimalism. They are equally at home on high-end office furniture, individual cubicle workstations, and on home office desks or computer tables.
To help you make an informed choice in your selection of Desk and Office Accessories, we invite you to visit our Product Information pages, for detailed information about each product, our materials, and suggestions as to what to look for in a desk accessory.
A portion of photography on this website was taken at Millington Lockwood.
Customer Service: (877) 337-5723
Prestige Office Accessories